Barbecued Venison and Wild Boar Ribs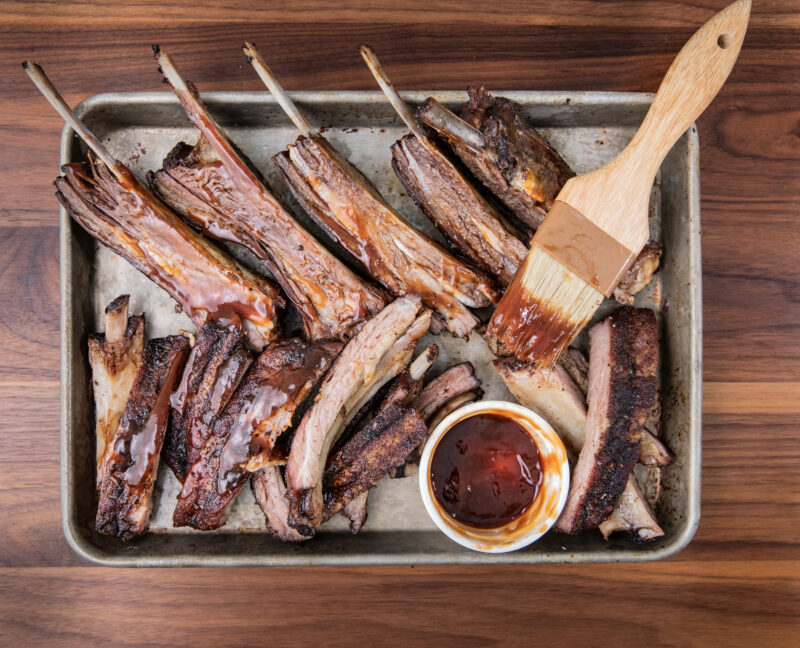 When I helped cook for a charity event for Catch-A-Dream Foundation and St. Jude Children's Research Hospital in Mississippi, I was paired up with a bunch of barbecue chefs from Nashville, Tennessee. It was from them I learned how to dry-smoke ribs. Once you truly nail a dry rub and master smoking ribs, I doubt you will ever go back to braised ribs again. The flavour is far superior.
4 pounds (1.8 kg) wild boar back ribs or pork ribs

4 pounds (1.8 kg) venison ribs

1⁄4 cup (60 mL) brown sugar

1⁄4 cup (60 mL) hot paprika

1 tablespoon (15 mL) kosher salt or sea salt

2 teaspoons (10 mL) freshly ground black pepper

4 sprigs fresh thyme, leaves only, chopped

1 cup (250 mL) water
Place the boar and venison ribs on a baking sheet. In a small bowl, combine the brown sugar, paprika, salt, pepper, and thyme. Using your hands, cover the meat evenly on both sides with the dry rub. Massage the rub into the meat. Cover with plastic wrap and refrigerate for at least 4 hours or overnight to marinate.
For the best-tasting results, I recommend using a smoker set to 300°F (150°C), but you can roast the ribs in the oven at the same temperature using the same method. Put the baking sheet in the smoker or oven, add the water to the pan, and cook the ribs, basting with the pan drippings after the first hour, then every 30 minutes. Dry-roasting or smoking usually takes about 3 hours, but depending on the thickness of the ribs, you will want to start checking their doneness after 2 hours and then every 30 minutes. Tug at a bone on the end of the rack. If it is rubbery and not pulling apart easily, it is not done. Ribs with a dry rub will never be quite as tender as braised ribs, so do not expect the meat to fall off the bone. Let the ribs rest for 5 to 10 minutes before slicing and serving.
Tip For even juicier ribs, brine the ribs overnight before marinating with the dry rub.