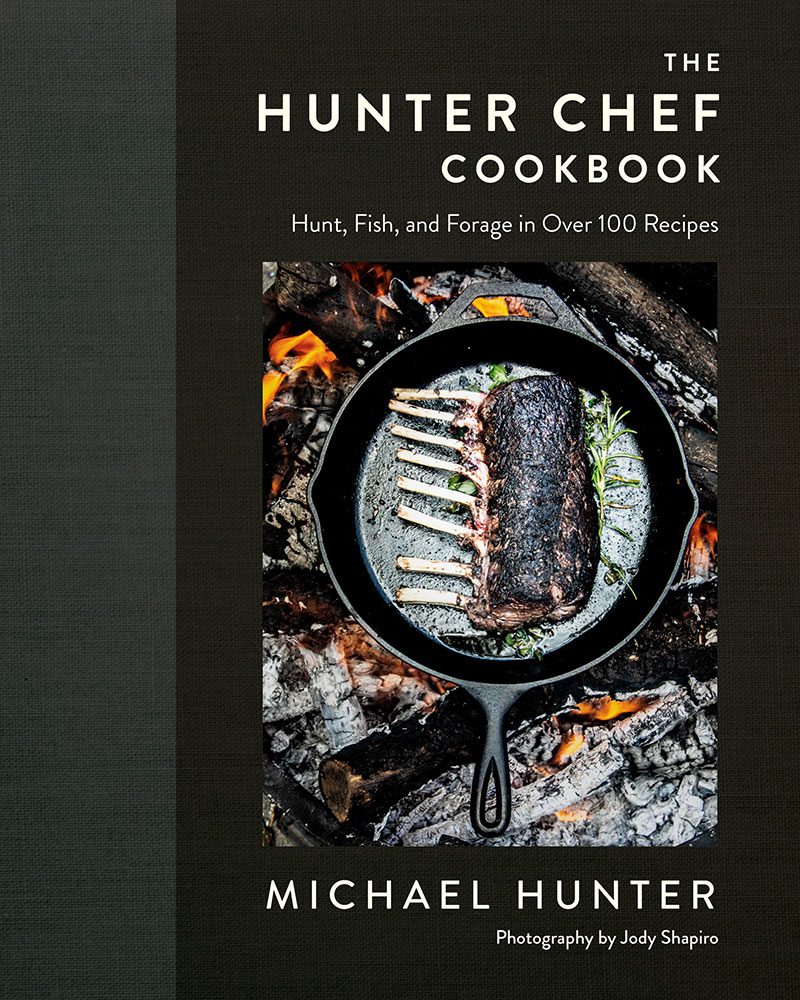 Hunt, Fish, and Forage
in Over 100 Recipes
Wild-game hunter and chef, Michael Hunter, celebrates the use of wild ingredients in a stunning collection of recipes and photography.
WELL-KNOWN HUNTER and respected wild-game chef, Michael Hunter, grew up in the great outdoors. Inspired by the endless bounty of the land, hunting, fishing, foraging, and cooking is a way of life for Hunter.
Celebrating the resources of the wild, The Hunter Chef Cookbook features a collection of over 100 recipes and butchery guides. The book includes recipes for cooking big game, from moose and bison, to white tail deer and wild boar. Common small game features include wild turkey, duck, wild goose, ruffed grouse, as well as rabbit and squirrel. Fresh-water and salt-water fish recipes feature pickerel, wild salmon, rainbow trout, prawns, scallops, and more. A seasoned forager, Hunter offers an array of savoury and sweet recipes, incorporating wild ingredients, everything from mushrooms and leeks to sumac and berries.
What's Inside:
Large Game
Small Game
Fish and Forage
Wild Desserts and Foraged Cocktails
Praise for The Hunter Chef Cookbook
"In The Hunter Chef Cookbook, we can learn the real value of nature from a master in foraging, fishing, and hunting."
"Michael Hunter is one of Canada's leaders in drawing awareness to the importance of wild game and cooking sustainably across our country."
"I recognized that Michael Hunter knows what he is talking about the minute I opened this book. Hunter is the kind of guy—and the kind of work—that you get when you combine passion, creativity, inventiveness, and elbow grease. This book makes me hungry, and Michael Hunter makes me proud to be a hunter and angler."
MICHAEL HUNTER is a Canadian-born professionally trained chef, co-owner of Antler Kitchen & Bar, a hunter, forager, husband, and father. Michael began cooking at the early age of thirteen and fell in love with food and the restaurant industry. Growing up on a horse farm, Michael has a natural connection to nature. An honours graduate of the Humber College Apprenticeship Chef Program obtaining his Red Seal, he has worked for some of Canada's top chefs and kitchens. In 2015, Michael and Jody Shapiro opened the restaurant Antler Kitchen & Bar to great acclaim. Since then, Hunter has been invited to cook at culinary festivals around the world including the United States, United Arab Emirates, Australia, Russia, and Brazil. He lives in Toronto, Canada.
---